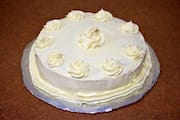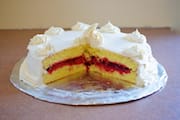 Lemon cake with strawberry filling and lemon buttercream.
Considering this was Michelle's first time making buttercream and first time decorating a cake, I think it looks pretty good. No? But more importantly, I could tell that she learned a lot and I could see that she had a lot of fun doing it. She says she wants to do it again next weekend…
At the same time, while waiting for the cake (and filling) to cool, I walked Michelle through making a pizza. We bought pizza dough from the grocery store, but everything else was from scratch.
Good job Michelle! (The pizza was a little overdone, but that was my fault.)