, I spent some quality time with Michelle while teaching her how to bake a cake and make a pizza. Normally, I have a bad habit of taking over in the kitchen and running the show, but I've been having some serious pain in my right wrist lately so I knew there was no way that would even be a possibility yesterday. (I'm typing this up with just my left hand…) All I could do was instruct, stand by and watch…
Michelle has been saying lately that she wants to bake me a cake for my birthday . Last year, I made Michelle a black forest cake for her birthday, and this year I made her a chocolate cake, so I think she feels pressured to reciprocate. Plus, she practically forgot my 30th birthday last year, so that may be a factor too? But anyways, I've been telling her that she can't expect to get it perfect on her first attempt, so maybe it would be a good idea to practice a couple times beforehand… I'm no expert either (as you can see from the photos in the preceding links), but I knew I could still offer enough advice and instruction to set her up for success, if she does indeed decide to bake me cake this year.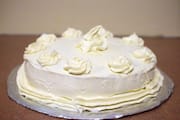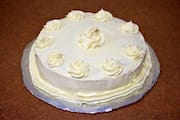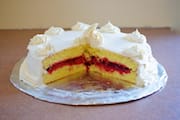 Lemon cake with strawberry filling and lemon buttercream.
Considering this was Michelle's first time making buttercream and first time decorating a cake, I think it looks pretty good. No? But more importantly, I could tell that she learned a lot and I could see that she had a lot of fun doing it. She says she wants to do it again next weekend…
At the same time, while waiting for the cake (and filling) to cool, I walked Michelle through making a pizza. We bought pizza dough from the grocery store, but everything else was from scratch.
Good job Michelle! (The pizza was a little overdone, but that was my fault.)