Every year for my birthday, I consider myself to be pretty lucky, but probably not for reasons that you might expect.
Since my birthday is always the same weekend as Thanksgiving, it inevitably makes me reflect on what I'm thankful for. Over the years, I've learned a lot about people through my birthday – you could say that I've gotten good at gauging relationships, or more specifically, I've gotten good at measuring sincerity and differentiating real friendships from mere acquaintances.
At first glance, it may appear a little self-centered or maybe even egotistical to use a birthday as a means to tell who really cares about you, or who doesn't, but the reality is that over the years I've experimented with this and I've learned that it's actually a very good indicator of who your real friends are.
Everyone that gets to know me quickly finds out that I make a big deal out of birthdays. It would be very hypocritical of me to make a big deal out of my birthday, and then not call someone for theirs, no? Indeed. So as much as I don't like talking on the phone, I always make a big effort to call people on their birthdays, send them an email, or do something to show them that I've at least remembered.
Naturally, the extent to which I'm prepared to "go out of my way" to wish someone well on their birthday depends on how close I feel to them and how much I care…
So every year for my birthday, I'm very grateful to get a glimpse of who really cares about me enough to pick up the phone to wish me a happy birthday, who cares about me enough to send me a card in the mail, send me an email, send me a quick text message, etc. And obviously, at the same time, it's sometimes interesting to see who can't be bothered to even send a text message! (I'm not at all interested in "fake" birthday greetings or insincere ones either so every year, I make a point of removing my birthday from my Facebook profile (and other places) about a week in advance to avoid this. it's a great way to find out who actually remembers your birthday…)
don't get me wrong, I don't use this as a means to "keep score" or to harbor any sort of negative emotions, but more appropriately, it makes me double check my priorities and make sure I'm devoting enough time to those people who sincerely care about me. Sometimes it can be a challenge to find out who your real friends are and it's easy to foolishly pour time into shallow relationships and invest too much time in the "wrong" relationships instead of the ones that truly matter. So for this, I am truly grateful every year and it's something for which I consider myself lucky.
This year was somewhat of a "milestone" since it was my 30th birthday, and while it was a very disappointing, uneventful birthday, I can't say I was surprised at all. Like I said, over the years, I've gotten better at gauging sincerity and I have gotten much better at predicting who will wish me a happy birthday and how they'll go about doing it, if even at all. (The only thing worse than "forgetting" someone's birthday, is wishing them a happy belated birthday – no? it's like, hey, I didn't remember your birthday when it was important, so I'll wish you a happy birthday now that its convenient for me, and now that its no longer relevant to you… That speaks volumes.)
Anyways, I'll be honest and say that this year my birthday was by far one of the worst I can remember. Ironically, , I had a great birthday surrounded by family and many new friends too. Two years ago, I was surprised at how many people actually cared about me – and how many people insisted on spending the day with me and making it an extremely memorable experience. So I've recently decided that two years ago, I celebrated my 30th birthday milestone, and this year was just a "swap" for that unimportant 28th birthday to balance things out… And I'm fine with that too – that was a great birthday that year – one which I won't soon forget!
Without further delay, here are some photos I took on my birthday this year. They're not the greatest photos by any means, but I did appreciate the opportunity I had to take out my camera and actually use it again!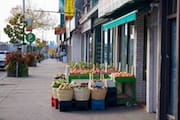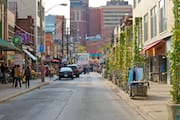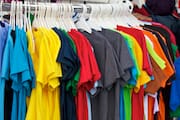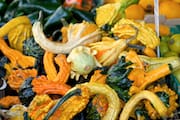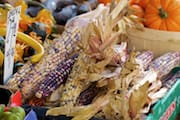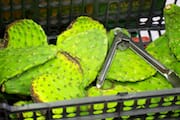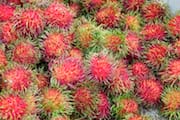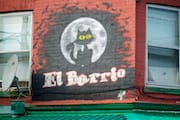 As you can see from the photos, Michelle didn't really have anything planned for my birthday this year, so I suggested we go to Chinatown to at least grab something to eat. We ended up going for dim sum at Rol San (more on that to come) and also went to King's Noodle Restaurant that day for some BBQ duck and chow mein (more on that later too!). But before eating, we walked through Kensington Market for a bit and I took Michelle shoe shopping with some money my mom had sent me for my birthday. (Thanks mom!) The company was good, and the food was fantastic.
In lieu of a birthday cake, we had some apple pie and ice cream back at home while we watched a movie with Lorenzo, Cachita & Javier… (Woof!)
For those of you that are reading this from Calgary – I hope the photos give you a glimpse into Toronto. I have a ton more photos (yes, much better ones) that I'll share in the coming days…