We got Lorenzo in and just seven months later we decided to get him a companion and brought Cachita home. Lorenzo was such an angel that we didn't hesitate at all to get another dog. Though Lorenzo wasn't very fond of sharing his bed and toys with Cachita at first, in time they grew to be inseparable and got along really well.
Almost two years later in , Javier was more of an impulse acquisition – we were a little worried about how long it would take Lorenzo and Cachita to finally accept him into their pack, but Javier is so easy-going that it didn't take much time at all. Whenever Lorenzo feels the need to assert his dominance as the alpha male and leader of the pack, Javier just submits without any resistance. And Cachita sees Javier almost like her baby and has taken it upon herself to be his protector.
Lorenzo and Cachita don't ever play together because Cachita is too big and likes to play very rough so Lorenzo always ends up scared. But Lorenzo will play with Javier, and Cachita will play with Javier – he's very feisty and has no problem standing up to her, even when she grabs him by his ears! Javier is not only our toy, but he's their toy too.
Here's a mishmash of some recent photos of our three dogs hanging out together: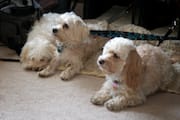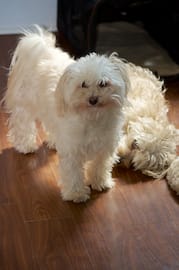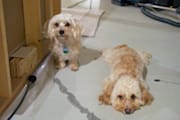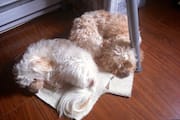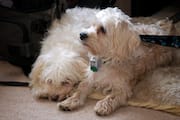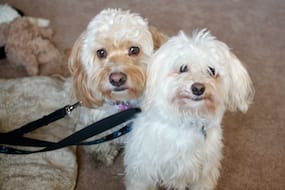 it's really nice to see our three dogs getting along so well – they sleep together, eat together, play together, and get into mischief together too… They're partners in crime!