Over the years, I've passed by Swatow countless times while in Chinatown, usually on my way to Lee Garden or Rol San. It's a small unassuming restaurant and has never really called my attention. But back in late April I decided to give it a shot after my meeting with Zomato's Community Manager, at her recommendation. And since then, I've been back a handful of times.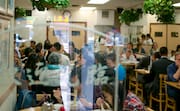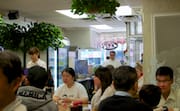 Inside, the restaurant is a little dated but generally well-kept. And like most Chinese restaurants, it looks clean on the surface but once you look carefully, the devil is in the details. The reason for my repeat visits, however, was their tasty food, in spite of their shortcomings in the cleanliness department. Being fair, the restaurant was never filthy, just a little dirty here and there but well within acceptable health standards.


I was caught off guard the first time I ordered their Pan-fried Dumplings (#124 — $6.50) since they didn't look at all like what I was expecting. But I hadn't even swallowed my first bite before I was in love with them.
Light and crispy on the outside, but juicy, almost soupy on the inside, I wondered how they fried them without having them turn soggy. My only criticism is that the soy sauce under them was super salty. If you don't go easy on that sauce, you'll find the rest of your meal to be bland, even if it isn't. I've had these dumplings a couple times now and I'll keep going back for them. Like all the food at Swatow, they're much better than they look.


The Spring Rolls (#131 — $1.80 each) at Swatow were full of cabbage and not much else, overly greasy and polluted with unappetizing black specks, but, notably fresh. I'd skip the spring rolls and opt for the deep-fried pork dumplings instead.
The Cantonese Chow Mein (#69 — $10.95) was the first thing I ate at Swatow. Evidently presentation is not their strength, but it was fresher and much tastier than it looked. Though I was disappointed to only find shrimp and squid in the Chow Mein, and no scallops, the dish as a whole was flavourful and had the perfect ratio of crispy noodles to soft ones. With so many great options in Chinatown however, it wasn't a chow mein I'd ever go back for. (But it was good enough to make me want to return to try something else.)


The Shanghai Noodles (#86 — $9.75), which I had on my third visit, cemented that Swatow is all about flavour and not at all about presentation. The portion was so large that the noodles barely fit on the plate.
The ratio of cabbage to noodles was excellent (I hate when they put too much cabbage), the onions were sweet and not strong and there was lots and lots of chicken, but no pork. Odd. The Shanghai noodles were unexpectedly al dente and not soft nor mushy, but they were also way too greasy and tasted excessively oily. Again, with so many great options in Chinatown, it wasn't anything I'd ever go back for.
So after two less-than-stellar noodle dishes, why did I keep going back? Because the beef brisket soup at Swatow, which I had on my second and fourth visits, was simply to die for. I tried the Shanghai noodles on my third visit out of curiosity, but now I know, beef brisket soup, deep-fried pork dumplings, and that's all you need.


I can't say enough good things about the Beef Stew Noodle Soup (#6 — $4.75) at Swatow. Every time I ordered it, the beef brisket was consistently succulent, mouthwatering, exceptionally tender and full of flavour. The noodles were good too, but not as good as the ones from King's Noodle. Still, they're a close second. Equally important, the broth was clear, light and a good accompaniment to the beef brisket. Overall, a super delicious soup.
My wife Michelle ordered the Shrimp Dumpling Noodle Soup (#10 — $5.95) and shared a shrimp dumpling with me. It was pleasant, notably fresh, light-tasting yet flavourful, but the broth was too weak and tasted bland paired against the shrimp dumplings.
The service at Swatow is the typical get-in-get-out type of service that you expect from a Chinese restaurant where the goal is a quick turnaround, not creating memorable experiences. However, the first time I've ever had someone come check up on me halfway through the meal at this kind of Chinese restaurant, was at Swatow. I have a feeling that my large DSLR camera sitting right on the table might have had something to do with that, but I can't know for sure.
I would be remiss if I didn't acknowledge how cheap the food is at Swatow. Only $4.75 for a large bowl of soup!? Wow. I should say inexpensive though, not cheap, since cheap implies it's of low quality, which it isn't. I actually wish they would raise their prices and put that money towards renovations. That, and putting a greater emphasis on cleanliness would put them over the top. Is that asking too much?
I could tell that their bathrooms (and basement) have been more recently renovated than the upstairs. Clean bathrooms are super important, but presentable dining rooms that make a great first impression are important too.




The bathroom was in much better shape than I was expecting for a basement bathroom in Chinatown. I could tell that it had recently been refreshed and wiped down, but once I looked a little deeper, I found a clean toilet, but in a dirty stall. And for some reason, there were a lot of ants crawling around the bathroom floor. Like I said, it's all about the details…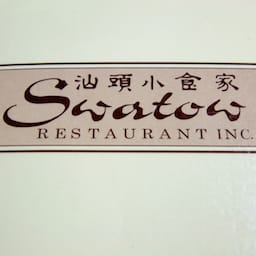 Swatow Restaurant
309 Spadina Avenue
Toronto, ON M5T 2E6
(416) 977-0601
DineSafe
Overall, Swatow is a safe bet in an endless sea of restaurants in Chinatown. Though their noodle dishes weren't anything I'd go back for, they were still relatively good. Just because they're not the best doesn't mean it was bad. But the beef stew/brisket soup at Swatow is now one of my favourite things to eat in all of Chinatown. Yes, it's that good!