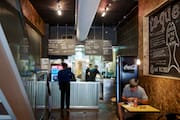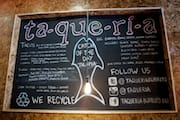 I've made two visits to Taquería Burrito Bar recently – one late last week, and then again for lunch. Coincidentally, I arrived around 2pm in the afternoon on both visits – well after the noon hour rush.
On my first visit, I decided to have the Carnita tacos (pulled pork with pasilla sauce and roasted pineapple) for $9 which come standard with green onion, cilantro, sour cream, guacamole and a lime wedge.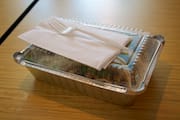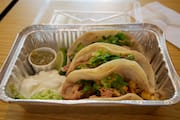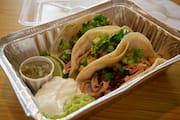 The pineapple was definitely roasted, which was a great touch, but also way too sweet and easily overpowered everything else. The pasilla sauce was very tame and lacking punch, but that could also be because the pineapple was stealing the show. Considering it was pork, I found the meat to be a little dry and tough, but it wasn't terrible. The salsa verde was very fresh and well-prepared, but not as spicy as I would have liked (more on that later).
I appreciated that the tortillas were made of corn flour (not wheat flour), but they were a little too dried out, so once they came into contact with any liquid, they fell apart very easily. It was a challenge not to make a soggy mess of it all, but not impossible.
The tacos were accompanied by a generous amount of sour cream on the side, but the amount of guacamole was nowhere near what could be considered "enough" for three tacos – maybe they intended for you to put guacamole on only one taco?
Overall, the tacos were overpowered by the roasted pineapple and way too sweet, but not completely horrible. I especially appreciated the freshness of all the ingredients, which has to be noted. Also, for $9 I expected the three tacos would be a large meal, but they were not at all filling – some people could probably even have this just as a snack. Not a lot of value for $9 unfortunately. On my first visit, my lunch (3 small tacos + a bottle of Coke) came to a total of $12.71 with HST.
Nevertheless, I was impressed with the freshness of their ingredients and the tacos piqued my interest enough to warrant a second visit. I was curious about their shrimp and fish tacos – almost everything comes as a taco, burrito, bowl, salad or nacho platter and I learned that the burrito comes with a lot more "stuff" (rice, black beans, etc.) and is a significantly larger portion, despite it's lower price tag.
On my second visit (lunch today), I ordered the Shrimp Burrito (adobo style shrimp with green mango, pickled pepper, and burrito sauce) for $8.75 which comes standard with black beans, pinto beans, sautéed onions & peppers, pico de gallo, corn salsa, cheese, lettuce, sour cream, fresh guacamole and a choice of verde, roja or habanero salsa – all in your choice of a white or whole-wheat tortilla.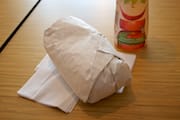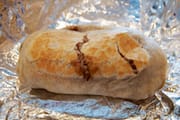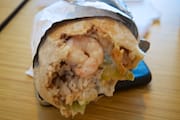 I was surprised to find very large shrimp inside, and they were cooked perfectly with just the right amount of crunch.
The sautéed onions and peppers were very nice, I just wish there was a lot more of them. The green mango added a nice touch of acidity, but in similarly very sparse amounts. And like the tacos I had the week prior, my burrito was very skimpy on the guacamole – in fact, there was so little guacamole it was hardly noticeable.
I was expecting a lot bolder flavors in this burrito, but instead it was very light and too bland for my liking. Actually, the first couple bites I had were really good, but as I got further into it, the rice and beans really started to overpower everything.
Overall, the freshness of the ingredients is what made the biggest impression. (They boast that they make their guacamole fresh every day, and you can tell it's true.) The burrito was definitely more filling than the tacos, but I wish They'd just make it smaller instead if that's what it takes to put more shrimp inside. It was almost as if I was having a rice and bean burrito and the shrimp was just another sparse "topping" that went inside. I wouldn't really call this a shrimp burrito – the shrimp was not at all a prominent ingredient. To their credit, however, I did notice that the quality of the foil wrap was exceptionally good (very thick) and there was no way it was going to get soggy – an important detail often overlooked! My lunch on this second visit (burrito + a bottle of apple juice) came to a total of $12.43 with HST.
Like I've noted a couple times already, it's the freshness of the ingredients at Taquería Burrito Bar that makes the biggest impression. However, when I think of Mexican food, I think big, bold flavors and my two experiences fell very short of that. Way too safe, way too bland…
The service at Taquería Burrito Bar was quick, efficient and helpful, but a little on the transactional side of things – not exactly memorable. I suppose that's a big plus for a busy lunch spot when you're just trying to get back to work in a hurry, but at 2pm with an empty restaurant, I was expecting the service to be a lot more personable.
To illustrate what I mean, on both visits once I placed my order, I was immediately given my total and asked how I was going to pay. I felt like somewhat of a nuisance when I had to slow the process down by asking if I could order a drink as well. On both visits, it was exactly the same experience. I probably would have ordered more food if I didn't feel so pressured to hurry up and pay right away (maybe a side? or dessert?) so you can see how this could be causing them to miss out on a lot of potential revenue. But again, if you're on a short lunch break from work and looking to get in and out as fast as possible, you may see this as a good thing. For me, it was way too rushed and the fact that the place was completely empty with no line-up only made it feel even more awkward.
In effort to be helpful, I noticed that they ask you if you want it "medium, spicy or very spicy" instead of asking you if you want salsa verde, roja or habanero. In my case, however, I would have asked for roja if I knew that's what "spicy" was. Nevertheless, the verde salsa I got with the three tacos was still very tasty.
On the plus side, once I placed my order, even though everything is made to order, it wasn't a very long wait before I got my food. Longer than a McDonald's for sure, but comparable to the wait you'd expect at a Vietnamese restaurant like Hue's Kitchen across the street, for example.

The ambience of the restaurant was very industrial looking, but super comfortable. The restaurant wasn't glistening clean by any means, but still very respectable – I'm assuming they get super busy for lunch. I didn't like the aluminum take-away containers that they serve the tacos in – if you're dining in and not taking it to-go, I think it would be much nicer to find some other way to serve the tacos (and it could potentially lower their costs too.) But overall, it was a very casual, easy-going atmosphere, not too stuffy and not a fast-food-chain vibe either.

I really dug the large photos of Yonge & Bloor from the Toronto Archives on their walls – an excellent choice of art! It will be great once they get more of these up on their walls.

The bathrooms were very easy to get to, and being on the upper level, very private too, but not the cleanest bathrooms I've ever seen, by far. I'm giving them the benefit of the doubt and assuming that they get swamped for lunch and just didn't get around to cleaning the bathrooms after their noon hour rush by the time I made my visit. Hopefully that's the case.
Next time I'm in the area and in the mood for more authentic Mexican food than Taco Bell (directly across the street from them), I'll definitely make another visit to Taquería Burrito Bar. I'm curious to try one of their salads or nacho platters. it's not something I would venture out for, (nowhere close to as good as La Carnita, for example), but still a solid choice for a quick lunch in the Yonge & Bloor area.