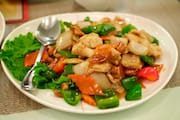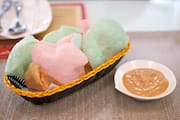 Our server brought over a basket of complimentary shrimp crackers and peanut satay sauce while we waited for our food, which was a nice surprise and an excellent start to our meal. (I've been craving more of those shrimp crackers for a couple days now…)
Our Pad Thai was very well made using fresh ingredients and there was nothing to complain about. Similarly, the Cashew Chicken was also well made and noticeably fresh. I'll admit that I still prefer both the Pad Thai and Cashew Chicken from Basil Thai though, (I found the Cashew Chicken at Thai Wok to taste more Chinese than Thai), but our meal at Thai Wok definitely merits a return visit.
A couple people came by for pick-up orders in the time we were there, and the phone kept ringing with new orders too. Our server came by a couple times to check up on us and filled our cups with tea whenever they were running low, but Michelle and I were still able to have an uninterrupted conversation while we ate. Sure, we were the only two customers in the restaurant at the time, but we neither felt hounded nor abandoned… Every interaction with our server was very pleasant and made for a very memorable experience.
I'll definitely be back to Thai Wok – I'm also curious to try some dishes from their (limited) Chinese menu. Having a kitchen that doesn't close until 11pm also helps, we'll probably end up ordering some take-out or delivery in the near future…
Thai Wok is also licensed for those of you who enjoy a glass of wine or beer with your meal.