Normally, when Michelle and I procrastinate about making dinner so long that we're left with no choice but to eat out, we either head down to Chinatown if it's really late, or around the corner to Basil Thai Kitchen if it's still open. But Basil Thai was closed for summer holidays all last week and we weren't in the mood to trek all the way to Chinatown that night either. Trying to avoid the obvious choice of having pizza, it occurred to me that I should check some food apps on my iPhone to search for nearby restaurants, and that's how I stumbled upon Thai Wok.
I had never heard of Thai Wok before and even though it's walking distance from our house, it's not on a street that we walk on very often. But some online reviews convinced me that it was at least worth trying – you can't go wrong when 100% of people like it, no? (Even if it is only 26 people that have voted.) So after making a quick phone call to make sure they were still open, we headed over to Thai Wok at around 9:30pm.
When we got there, the place was completely empty which is usually not a good sign, but it was late after all. We walked by it a couple times and peeked in the windows before finally convincing ourselves to go in. (Earlier in the day, I had a terrible lunch at Relish and was in no mood to have yet another bad meal.)
Once inside, our first impression was a good one – the place was clean and tidy and we were promptly greeted by a very polite, friendly server who seated us right away. We immediately felt like this place sincerely wanted our business and would do whatever it took to make us happy. You know the feeling? Service!
We briefly looked over the menu and when our server brought us our tea, I asked her what she could recommend off the menu and what their most popular dishes are. I don't think she understood me too well and it became obvious that her English was not that great, but what we noticed the most was how much effort she was putting in and how hard she was trying. It didn't matter that she didn't answer my question, her strong desire to please us made the language barrier a non-issue. We decided to order a Pad Thai and a Cashew Chicken, for no other reason than to directly compare our first experience with Basil Thai.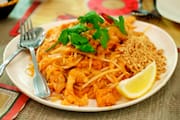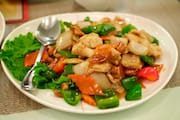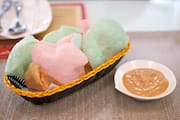 Our server brought over a basket of complimentary shrimp crackers and peanut satay sauce while we waited for our food, which was a nice surprise and an excellent start to our meal. (I've been craving more of those shrimp crackers for a couple days now…)
Our Pad Thai was very well made using fresh ingredients and there was nothing to complain about. Similarly, the Cashew Chicken was also well made and noticeably fresh. I'll admit that I still prefer both the Pad Thai and Cashew Chicken from Basil Thai though, (I found the Cashew Chicken at Thai Wok to taste more Chinese than Thai), but our meal at Thai Wok definitely merits a return visit.
A couple people came by for pick-up orders in the time we were there, and the phone kept ringing with new orders too. Our server came by a couple times to check up on us and filled our cups with tea whenever they were running low, but Michelle and I were still able to have an uninterrupted conversation while we ate. Sure, we were the only two customers in the restaurant at the time, but we neither felt hounded nor abandoned… Every interaction with our server was very pleasant and made for a very memorable experience.
I'll definitely be back to Thai Wok – I'm also curious to try some dishes from their (limited) Chinese menu. Having a kitchen that doesn't close until 11pm also helps, we'll probably end up ordering some take-out or delivery in the near future…
Thai Wok is also licensed for those of you who enjoy a glass of wine or beer with your meal.