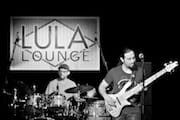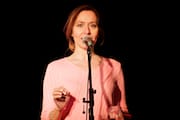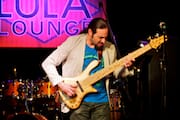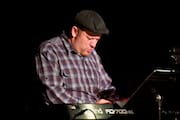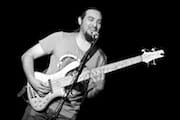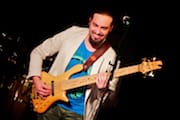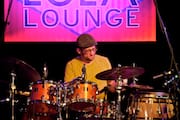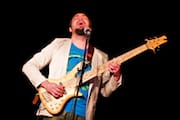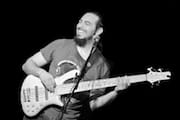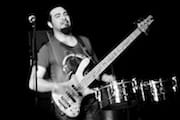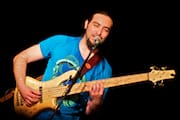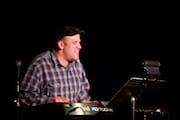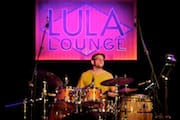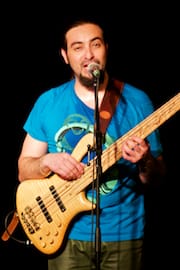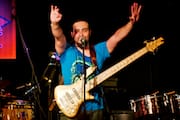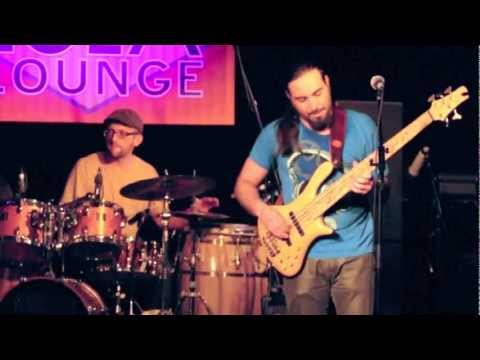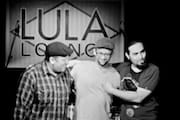 The photos were taken with a Nikon D90 and processed in Aperture (no Photoshop). The video was also taken with my DSLR and edited in iMovie. Normally, I record audio in stereo with my iPod recorder (or iPhone) and blend that with the built-in audio from the camera, but this time I didn't record any separate audio so I had to use only the mono track off the camera. And unfortunately, iMovie doesn't let you do very much to fix white balance or color issues and I've been way too busy with charts and music stuff to learn my way around Final Cut Pro yet, but I do have it installed (a legal copy, of course) waiting for the day I can finally devote some time to it…
Last time, I wasn't very happy with my photos from the Billy Bryans fundraiser, but you only get out of something what you put into it – I was feeling a little too lazy to get up and walk around to take better photos that day, plus, I didn't want to leave Michelle sitting at our table by herself. This time though, Michelle was feeling too sick to come along with me, but I ended up sitting with some friends whom I hadn't seen in many years, and then, I was enjoying the music way too much to concentrate on the quality of the photos… What can you do?
So, all the photos were taken with my 70-300mm f/4.5-5.6 lens from the back of the room, (the fact that I didn't switch lenses even once should tell you a lot), and not until I got home did I realize that I had taken all these photos in Manual Mode with the shutter speed locked at 1/13". Most of the photos were super blurry and not many of them turned out to be usable in any way – in fact, these were the only ones that were somewhat salvageable… Oops! I'm so used to having my camera always set in Aperture Priority Mode so I never thought to check it – but like I said, I was too into the music to concentrate on the photos that night – it's unfortunate. (But Alain did sound great!)
And then, as if that wasn't enough of a mistake already, when I was processing the photos in Aperture this week I accidentally deleted the good ones and kept only the bad ones so it took me quite a while to recover all the photos and sort my mess out. Sheesh! But if nothing else, it was a good learning opportunity… Ha!
I wish there were more hours in the day, and I wish that I could have lots more opportunities to use my camera. Free tickets, anyone? LOL. If music weren't my full-time job, and if I didn't love music so much I'd probably get more serious about photography, (who knew?) but I'd have a long way to get to that point I think. (Sure, I've had some of my photos published in a magazine, but still…) Photography is a very fun hobby though (even if it can be an expensive one). And speaking of learning opportunities, I've realized that I need to figure out how to take in a show and fully enjoy the music, while still focusing on the quality of the photos – it's either one or the other right now, so I need to find a way to get the best of both… I suppose I could leave my camera at home and go to concerts just for the music, and then take photos of other things, but of all the things to photograph, I enjoy taking photos of musicians the most. Hm…
I'll be uploading photos from the second half of that evening – the show with Ignacio Berroa – in the next day or two. I also have some photos from Pupy y Los Que Son Son that are coming after that. With all the charts I've been working on this week, and then looking for a new apartment at the same time, it's been hard to find any spare time to sort through the photos. But I am trying to get them up as soon as possible… (Use the subscribe link at the very top of the page if you want to know when they're up.)
Oh, and don't forget to check out Alain's website at AlainPerez.net! What a great show!